Windows Phone 7 Marketplace gets two new mapping apps
3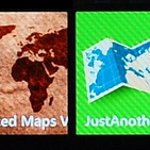 Hitting the Windows Phone 7 Marketplace recently was a couple of nice geo-mapping alternatives to Microsoft's Bing Maps application that will surely please a majority of people that give them a try.
The first application is called Advanced Maps Viewer. Unfortunately it isn't a free app, but at only .99 cents it won't really burn a hole in your pocket either. Despite this applications lack of routing capabilities, it uses Google Maps. This includes Street, Satellite, Hybrid and Physical maps view in addition to geo-locating.
The second application is called JustAnotherMaps and will run you $1.29, but you will unfortunately have to deal with a trial period. This app does not utilize Google Maps like Advance Maps Viewer does, but it does use OpenStreetMap which has the ability for routing and searching. Oddly enough it is lacking any type of "find me" or "locate me" feature. Most other apps like Bing Maps and Google Maps have this feature, which makes it much easier for your phone to hone in on your GPS location.
So there are definitely choices if Bing Maps isn't satisfying your phones GPS needs. Neither of these apps that are now found in the WP7 Marketplace are free, but they won't bankrupt you either. If you have given either of these apps a try, tell us what you think of them in the comments below.
source:
wpcentral