Windows 10 brings improved desktop experience, better multi-tasking, and other good stuff
27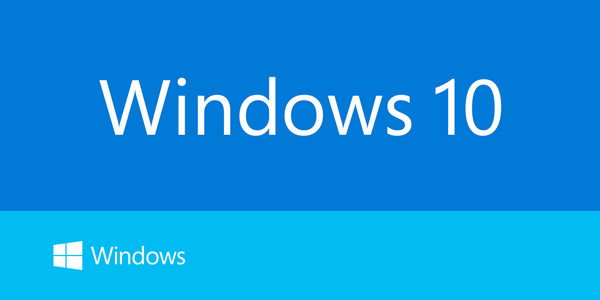 Out of the literal blue, Microsoft announced the next version of Windows. It's Windows 10. That's right, MS just went ahead and skipped a number. While the reasons are a numeric mystery of their own, Windows 10 looks like good news at the moment! It's one operating system. One platform. One interface. One app store. For all personal computing and communications devices imaginable - from the tiniest wearables to the bulkiest of computers.
So, what's up with Windows? In short, lots is up. Here are some of the upcoming innovations in brief, fresh off the Microsoft tribune!
The Start Menu returns with a vengeance
Ever dreamed for a Start button on your smartphone? You will finally be able to have one! But more importantly, PC users will be getting it and rejoicing as Microsoft finally solved the UI duality that plagued Windows 8. The new old Start menu is a hybrid of Windows 7's Aero layout and Windows 8's Live tiles. This time around, you are getting the best of both, and with resizable tiles and customizations making the cut, the "Metro" experience will be, at the very worst, palatable. You get a "Me" tile, universal search (web & file system), pinning apps as tiles, and a no-frills option to turn off your device.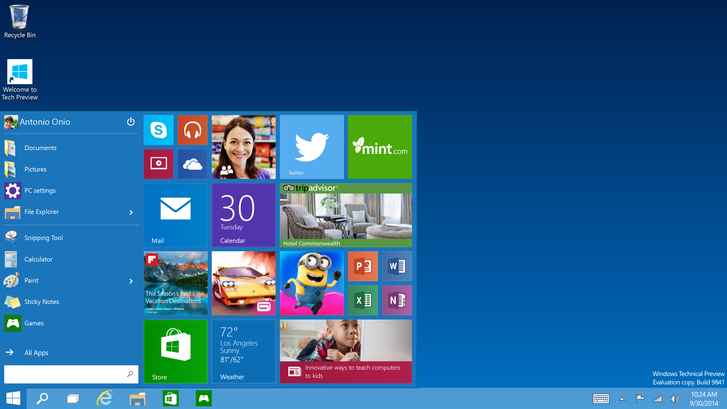 Touch-based apps and "universal" apps will run on desktop
Windows 8 apps made for touch control will be working in a regular keyboard + mouse environment, entirely in the desktop. These are called "Universal apps", and they are available next to "classic" apps reminiscent of Windows 7. Below is a touch-based app running in the desktop environment.. While we're yet to see how this will pan out in real life, the mere notion of not switching between Metro view and the Windows desktop brings comfort to our hearts.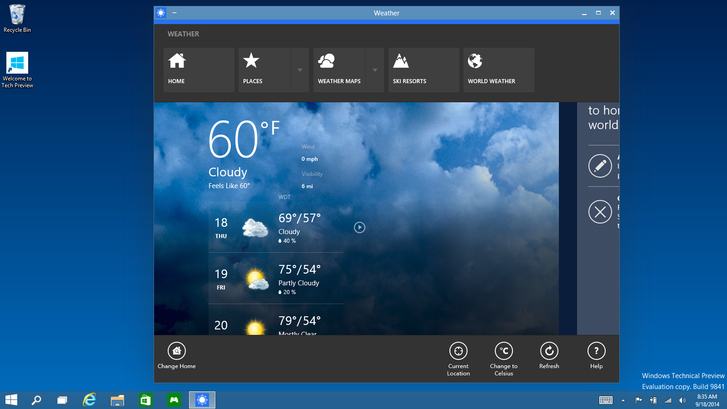 Improved multi-tasking
There's a new Task View that shows even bigger snapshots of the apps you currently have running, along with the new "virtual desktops" shown on the bottom. Task View, which is available by swiping from the left, or clicking a taskbar button, lets you switch between multiple desktops and apps alike. You will also find a Snap Assist feature that lets you snap together apps running in separate desktops. That, and Ctrl + V pasting in the Command Prompt are the subtlest, but no less important improvements in Windows 10 by far. Oh, and the Charms bar has been made larger, and with easier to touch buttons.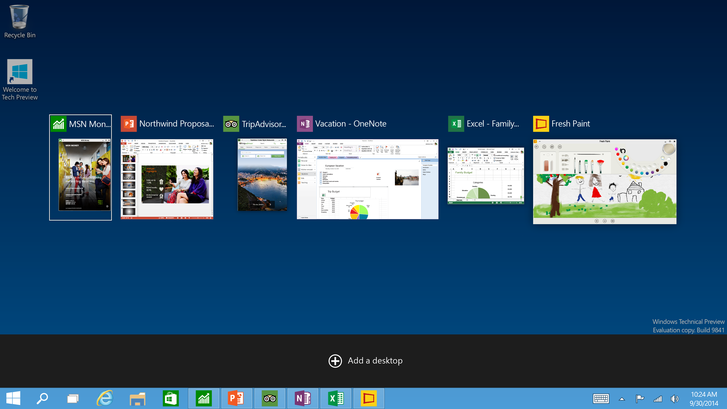 Snap-snap snapping!
Microsoft showed how Windows 10 users will be ale to snap together at least four running apps, gluing them together in a view that will look spectacular on a large monitor. It should look great on a Surface tab as well, so don't fret over Microsoft being too PC-centric this time.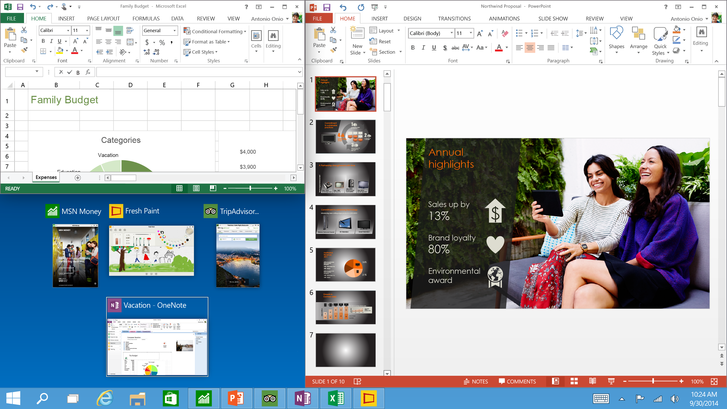 Device adaptability

A new feature named Continuum lets Windows 10 automatically adapt itself to whatever device you happen to be using it in a given moment. Say you're running Windows 10 on a tablet with a paired keyboard. You are in desktop mode. When you remove the keyboard, you will get asked if you want to switch to Tablet mode. If you do, the app you're currently using will automatically expand itself to a full-screen view and the interface will switch to touch-centric tiles. But how will Windows 10 look on the smartphone? It is said that it will look just like the reworked touch-based UI in Windows 10. So Windows Phone users won't suddenly find themselves in murky desktop waters!
One for all, all for one
Just in case it isn't clear - with Windows 10, Microsoft wants to deliver one application platform, one app store, one way to search, buy, and update apps across all your devices. It's a comprehensive platform built with Satya Nadella's "cloud-first" mantra in mind. To call this an ambitious undertaking would be an understatement - bringing a seamless, unified experience across a wide range of devices portable and static - but Microsoft has almost infinite resources to throw at it, and make it happen!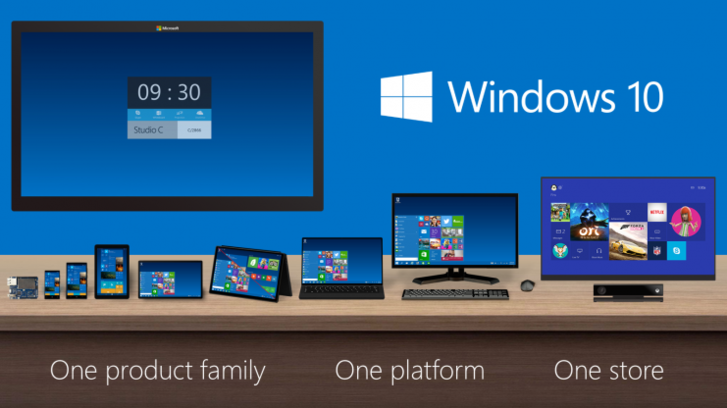 Price and release date
A Windows 10 Technical Preview version will be released for desktop and laptop computers tomorrow. The final version of Windows 10 will ship sometime after the Microsoft Build conference in the middle of 2015. This year's Build conference was held between April 2-4. As for the price, you know as much as we do! MS only mentioned they would like to give Windows 7 users an incentive to upgrade, which could be loosely interpreted as "free" or "reasonably priced" in the context of pricing.