Winamp is set to make a big comeback as a mobile-first, all-in-one music player in 2019
7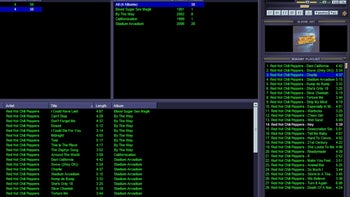 Remember Winamp, the legendary music player that used to whip the llama's ass? Although it never really died officially, official support for the ultra-popular music player was in a limbo for nearly half a decade, which in this day and age equals digital death. This happened right after Winamp's developer Nullsoft got sold to Belgian radio aggregator Radionomy, and ever since, the desktop app received zero to no support despite still enjoying millions of montly active users worldwide. Even in the age of music streaming and montly subscriptions, a large swath of audiophiles around the world continued to rely on the llama-whipping music player.

As a sort of a very pleasant surprise, things are about to change abruptly for Winamp - not only is this one scheduled to make an enormous comeback very soon, but it's also about to change its purpose.
Radionomy's CEO, Alexandre Saboundjian, just told TechCrunch that Winamp will be officially revamped to a mobile-first app and will be receiving a version 5.8 update in two days' time, on October 18, followed by a brand new milestone uipdate, version 6, sometime next year. This will be the first official software update delivered under Radionomy's umbrella. No idea on what features would make it into any of the upcoming Winamp updates, but one thing is for certain - the good ol' MP3 player will evolve into something much more capable.
Don't let the mobile-first revamp fool you, though - the desktop version of the app will also receive get the same update treatment. It's still unclear what new features would make it to either version of the app, let alone what portion of the original Winamp will remain a staple.
See, Winamp will still be able to playback most audio files you throw at it, but it will also act as an aggregator of all of your streaming services, podcasts, radio stations, as well as local and cloud playlists that you might have in your employ. Although it definitely sounds like the revamped Winamp is aiming to turn itself into the Netflix for audio and music, Radionomy's CEO has declined to comment whether we'd be able to integrate services like Spotify, Google Play Music, Apple Music, Tidal, and others into it.

"There will be a completely new version next year, with the legacy of Winamp but a more complete listening experience," said Alexandre Saboundjian, CEO of Radionomy. "You can listen to the MP3s you may have at home, but also to the cloud, to podcasts, to streaming radio stations, to a playlist you perhaps have built."
Combining all of these various audio sources into one certainly sounds like a rather optimistic and gargantuan task, we are hopeful that the team behind the beloved music player of old will be capable of pulling that one off. The revamped version of Winamp is slated to arrive on both iOS and Android.

Finally, software update 5.8 for Winamp will effectively remove all previously-existing premium options from the music player. It will once again return to a freeware distribution model and will ditch the paid features previously available in Winamp Pro.

Let's hope both the classic and Bento skins make a comeback as well.