Will you miss the standard audio jack?
66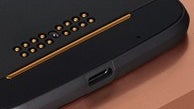 It's one thing to hear persistent rumors from multiple sources that
Apple will do away
with another ancient connectivity standard that gets in its way, or when a company
like LeEco
outs a phone without an audio jack. It's another feeling entirely, when you actually see this happening in a phone that is poised for the western mainstream.
The inevitability of it all dawned on us yesterday, when the
Moto Z
and
Moto Z Force
were announced. Not only do they sport the trendy USB Type-C connector, but the bog standard 3.5mm audio jack is gone now, for the first time in a mainstream phone. Thankfully, there will be an adapter in the box, so all your current wired headphones and other 3.5mm gear will still be available for you to use with the Moto Z, but with time we will seemingly all have to move to USB-C or
Lightning-equipped headphones
. Charging and listening to music? Well, we'll see about that, shrugged the phone makers.
That is why we wanted to ask you if you are now Team Jack, Team C or Team Lightning, and how would you react if most phones in the future get rid of the audio jack they have been coming with since forever. Take your pick, and tell us your grievances below.