Will the Sony Xperia Z cope with the fierce competition of 2013? Here's what you think about this
35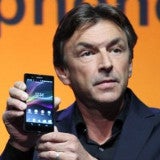 The Sony Xperia Z was probably the most exciting phone at this year's
CES
expo. As a matter of fact, it was the only high-end smartphone from a brand-name manufacturer, which means that while it managed to stand out from the rest of the CES crowd, it might not have such an easy time later this year when Samsung, Motorola and HTC reveal their big products.
That is why we asked you earlier this week what you think about the future of the Xperia Z, and almost surprisingly, your answer was full of positivism. It turns out most of you, 66.98% to be precise, are firm believers that the Xperia Z will be a success. Meanwhile, just 17.26% are of the opinion that Sony's Z won't be able to deal with Samsung's S, or some of the other top dogs. The smallest group, 15.77%, represent those of us who tend to be a bit more thoughtful before jumping to a conclusion, reasoning that it's still a tad early to make any serious forecast.
There you have it, guys, we have the first real contender for the year! And, it looks like it not only has a fancy screen and a glass casing, but also the love of the people.