Will the App World live on after Verizon starts their own app store?
This article contains unofficial information.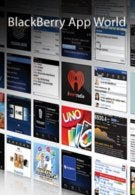 RIM's BlackBerry App World may soon face some stiff competition in the form of one of their closest partners which may ultimately make them rethink their strategy. Verizon and RIM have a profound relationship that have deep roots extending far enough for the eyes could see, but that may soon change when Big Red debuts their very own branded app store. It's been heard that roughly 80% to 90% of App World's user base consists of Verizon customers – so it may clearly dictate who has the overall leverage in making decisions. Verizon's Ryan Hughes, VP Partner Management, has said in an interview that the soon to be Verizon store will be the sole marketplace for devices sold by the company – taking precedence over others like the App World. We'll most likely see devices being outfitted with the Verizon app store while sales representatives would offer it heavily – meaning there would be little hope for the App World to come preloaded in the future. Big Red's stance is even supplemented with over 3,500 developers already signed up to publish to them, plus throw in the fact that purchased apps can be billed, makes little chance for the App World to make a stand. Sure you'll always have that ability to manually download the App World onto the device, but there are consumers out there that would overlook it when being bombarded with Verizon's offerings. In any case, RIM will really need to do something in order to keep the App World enticing enough for people. Now this won't affect only the App World, but Microsoft's own Windows Marketplace may also see something coming down in the pipelines – we'll see what happens then.
via
BlackBerry Cool
&
Mobile Entertainment