WiFi hotspot feature for Verizon iPhone will cost you
41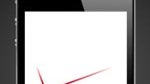 The launch of the much anticipated Verizon branded Apple iPhone 4 is just around the corner and some new news has surfaced that the WiFi hotspot feature will cost users an extra monthly charge on their bill.
The Verizon version of the iPhone is the first of to have the WiFi hotspot capability. Other devices on the Verizon lineup with this capability have an additional charge, so it should come as no surprise that the iPhone does as well.
The ability to use the iPhone as a WiFi hotspot will run you $20 monthly. However, this is not an unlimited plan as Verizon will be implementing a 2 GB data cap. If you go over that limit, it will cost you another $20 for each extra GB of data used. The iPhone can be used to provide internet for up to five devices at once, so if you want to use the feature proceed with caution
Any surprise about the pricing for the hotspot feature on Verizon's Apple iPhone 4? How about the price for going over your monthly data allowance? Tell us what you think in the comments below.
source:
Slash Gear