Why won't AT&T support MMS on the iPhone 3G S at launch?
36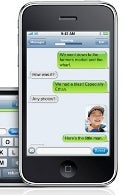 The new iPhone OS 3.0 and the new iPhone 3G S are finally bringing the world of MMS to Apple's touchscreen phone. But hold on, AT&T will not be supporting MMS for the iPhone 3G and the 3G S until "late summer". While that might put a damper on things, iPhone users have waited so long to send pictures on their handset that a few more weeks of waiting is really nothing. Right?
You're probably thinking that the reason AT&T can't allow MMS to start right away is due to some type of complex technical fix that the carrier has to do to get this feature up and running. The actual reason is a lot more low tech. It seems that AT&T is not supporting the MMS feature on the iPhone 3G and iPhone 3G S immediately because they have to remove manually the "Opt Out MMS codes" on each account. In other words, the phone itself is all set and ready to zap those pictures of your kids from your iPhone to Aunt Margaret's handset, but AT&T's network will not allow it although it will happen once the carrier gets down to some manual labor and removes the blocks.
Speaking of being locked out, tethering also will not be supported immediately. BGR is reporting that AT&T is working on a $70/month unlimited data and tethering plan that will not include SMS and MMS. Can you say Ka-Ching?
Apple iPhone 3G S
source:
BGR