Who will make what in the Clearwire acquisition
2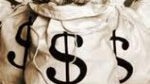 Now that Sprint has raised its bid for Clearwire to $5 a share, it has received the support of the network wholesaler's board. Major stockholders and funds have now switched from supporting Dish's $4.40 a share bid to rallying behind Sprint's higher offer. Mount Kellett Capital Management is the company's largest stockholder with an
18.22% stake
and its haul from Sprint's offer will amount to almost $638 million. Comcast is next with 12.66% of the company which is worth $442.5 million at the $5 price.
Sprint could be rightly accused of trying to steal the company, considering that it's
first offer for the shares of Clearwire that it doesn't own was $2.97
.
Dish lobbed in a $3.30 a share bid
which
Sprint eventually topped with a $3.40 a share offer
.
Dish then went to $4.40
which appeared to be the winner until Sprint topped it at $5.
The Clearwire stockholder vote is now set for
July 8th
and the chart below shows what the top Clearwire stock holders will receive if Sprint's $5 bid is approved by stockholders.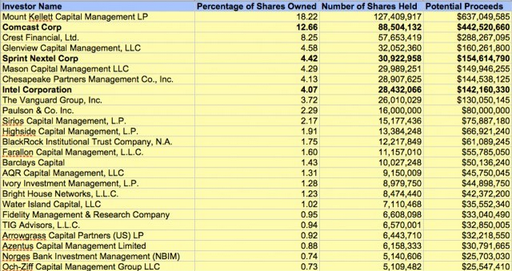 List of top Clearwire stockholders and what they stand to receive at $5 a share
source:
AllThingsD