White iPhone 4: Will you buy it, if it's made available in the coming days?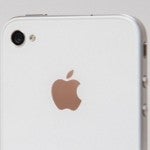 Rumors are
going strong
that we will see the white iPhone 4
before the end of this month
- among other reports, an Italian source claims this handset will be launched
on April 26
, and if this comes true, it will signal the happy end of months of rumors about this elusive device.
That would be all fine and well, really, but this handset is so mythical and hyped-up that it's interesting to see how many of you
actually
plan to buy it, especially if we take into account this is... err, well, the
iPhone 4
but painted in white. Moreover, it's presumed that the launch of the fifth generation of the Apple handset is not that far away, so some people may think it's sensible to wait a few months and get a brand new phone rather than white iPhone 4. With that in mind, it's time to ask you...