Which Android keyboard are you using?
60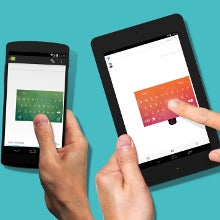 The ability to change the stock on-screen keyboard that comes with your phone, for a better one made by a third-party developer, is a big part of Android's open experience. Devs have consistently proven they can come up with some of the best ideas in the industry to improve the challenging life of the virtual typist in all of us. Innovative input methods like gesture typing and geometrical intelligence are pushing the concept boundaries, allowing you to reach levels of typing speed and precision attributed only to ergonomic physical keyboards before, and sometimes even surpassing them.
We recently
rounded up a few of the best on-screen keyboards available for Android
, to facilitate your search for the one and only keyboard that will suit your current needs best. There are a lot of great choices in there, and the list is by no means exhaustive, as our phones' Android overlays come with their own decked-out keyboards, and even Google's stock Android one is a great contender now. That is why we wanted to ask you which of the many stock or third-party Android keyboard choices are you using on your phone or tablet. Checkmark your current thumb-wrecker situation in the poll below, and tell us why did you choose what you have in the comments.