When an unboxing goes wrong; Motorola DROID RAZR comes out of the box ready to be returned
43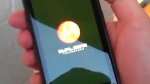 A couple of newbies to the world of unboxing videos decided to take the unboxing of a
Motorola DROID RAZR
a little too far and were apparently spanked for doing so. Most unboxing videos show the device being taken out of the package with the accessories that come with the purchase, a quick look at the hardware like the buttons and the screen and you might get a look at the battery (which is impossible with the built in cell on the DROID RAZR).
The unboxing started to go downhill when the pair turned on the device and everything was green. And not a pretty shade of green, either. Think about the color of an unchlorinated swimming pool. The screen also was not sharp and was obviously defective. While it might have been great for the duo to receive their hot new Motorola DROID RAZR two days early, unfortunately, they will now have to send it back to Verizon and
wait for a replacement
. And if they decide to re-do the unboxing, hopefully they will have learned their lesson and will turn off the camera before turning on the phone.
source:
YouTube
via
AndroidCentral