When Google CEO Larry Page is excited, it means Google had a great quarter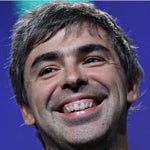 All Things D
, it seems that since Mr. Page likes to
say the word "excited" or other variations of the word
when talking about services and products offered by the Mountain View based tech giant. Since
taking his current position as CEO of Google
, Page has used the word quite often during the company's earnings call. The peak was 16 mentions during last year's third quarter earnings call which led Page to say things like "
incredibly excited
" and "
amazingly excited
". This past quarter,
despite news of that 2 for 1 stock split
which firmly leaves control of the company in the hands of Page and Sergey Brin, merited only 8 uses if the word and its variations thereof.
It's one thing to note a connection, but another to actually prove it using fancy charts. The latter is what
All Things D
did and you can clearly see the connection between
Google topping analyst's quarterly expectations and Page's use of the e-word
. The only problem with this is that there is no real-life use of this information since it comes after the earnings have been reported and the stock market is closed. Now if we can come up with a way to monitor Page's usage of the word in the days prior to the earnings report, we might have a full-proof method to clean up in the options market. If Page says "
excited
" more than a pre-determined number of times prior to the earnings release, you buy calls. If his EQ (excited quotient) is below the threshold, you buy puts.
source:
AllThingsD