What's old is new – StyleTap bring Palm emulation to Android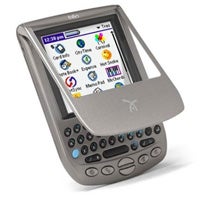 If you look back fondly at your Palm OS days and feel that your life would be better if you had access to some of those apps while continuing to enjoy the modern day marvels of Android, now you can have your cake and eat it too with StyleTap.
StyleTap is an emulator that allows you to run any of the over 30,000 Palm OS apps on your Android phone or tablet. It supports all the basic essentials such as TCP/IP networking, audio recording and playback, the ability to use the multi-gigabyte storage as a virtual memory card, and cut/copy/paste of text between native and Palm OS apps. It can also give Palm OS apps access to Android's GPS adding another dimension of capabilities.
"We are particularly delighted to support Android because the open nature of the Android ecosystem allows customers to take full advantage of the benefits of StyleTap without being limited by arbitrary restrictions such as those imposed by Apple," said Gregory Sokoloff, CEO of StyleTap.
StyleTab for Android can be purchased for a whooping $49.95, but there is a 14-day trial available to see if it will meet your needs before you shell out 50 bones.