What the 3G iPhone specs may look like
21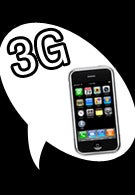 Rumors, rumors and only rumors … yeah, there's no solid word on these either, but probably, they represent some of the changes the iPhone will experience, getting 3G. The announcement is expected to happen during the Apple's Worldwide Developer Conference (WWDC) in June, similar to what Walt said. Three may be three versions: 8GB at $399, 16GB at $499 and possibly a 32GB of 3G iPhone experience at $599.
Although no significant changes will be done to the UI, the new design should shave 2.5mm off the current thickness, resulting in a 9.1mm slim candybar – Great success! In addition, the rumors point out that some new materials would be used, for more high-end feeling.
For its 3G, the second-gen iPhone is expected to use the Infineon S-GOLD3H chipset, which has support for HSDPA 7.2Mbps. Additionally, it can be used with up to 5-megapixel camera modules, so we may see some improvement in this aspect. However, a really great camera is not likely to be integrated in the "music phone".
via
IntoMobile