What is the Samsung Transform heading for Sprint?
10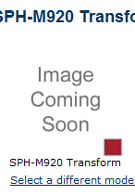 The SPH prefix on Samsung models usually indicates a handset that is heading to Sprint. Recently, the Korean manufacturer had its SPH-M920 approved by the FCC. Looking at an online cellular store, it would appear that the model is the Samsung Transform. With a name like that, we would imagine a device that can change shape, function and features. The last handset that offered modular components was the LG Versa for Verizon, and the reality never lived up to the potential when it came to that model.
At this stage, we have no idea what platform the phone will be running, or even if it is a smartphone. The SPH-M920 did receive Wi-Fi certification for 802.11b/g/n so the odds favor this being a smartphone of some sort. And when you think of a smartphone on Samsung, your mind just drifts over to Android. As for the transforming capabilities of the device, we will have to leave it to the imagination until more precise specs are revealed.
source:
YourWirelessSource
,
Wi-FiAlliance