What happens when the HTC One is overclocked to 2.0GHz?
46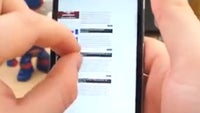 There's a lot to love about the
HTC One
. Not only that it is beautifully designed and loaded with features, but it is also powered by a super-fast quad-core SoC – the Snapdragon 600 chip running at 1.7GHz. However, have you ever wondered what would happen if that figure is pushed a little further? Well, the folks at
Pocketnow
wanted to find out, so they took an HTC One and cranked the gigahertz knob up to 11. Metaphorically speaking, of course.
By using a custom kernel called ElementalX for the HTC One, the clock speed of its processor was first set at 2.1GHz. The smartphone did not last long at such speed, however, causing it to shut itself down. Then a second overclocking attempt with a clock speed of 2GHz returned much more stable results. And yes, benchmark results were off the charts. Check out the video below to learn more about what it is to have an overclocked HTC One!