What happens if Sprint switches to LTE?
5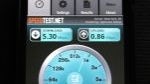 You already know that
Sprint has considered
an LTE network. The
decision to go with WiMax
was supposedly based on the availability of network equipment, but it's increasingly looking like a hasty decision.
While their
4G rollout
in New York City is exciting, we hear that service will vary widely depending on where you are relative to the structures around you. And herein lies the downside of early adoption: Sprint, in retrospect, might have rather gone with LTE from the beginning.
Clear announced only last week that they had successfully tested LTE at 90 Mbps in Phoenix, but that only means they are considering a switch. Sprint mentioned they were considering a switch earlier this year, saying that "There's nothing that prevents us from moving to LTE...We don't see WiMax and LTE as being mutually exclusive."
If
Sprint does switch to LTE
, current Sprint 4G customers might feel a little neglected. Fear not, Sprint's director of 4G said that "Our customers have committed to long-term contracts and we're going to honor that." Sprint CEO Dan Hesse echoed that affirmation: "We have the spectrum resources where we could add LTE if we choose to do that, on top of the WiMax network...The beauty of having a lot of spectrum is we have a lot of flexibility."
So EVO 4G owners needn't panic. It sounds like, if nothing else, Sprint will be giving you more options than other carriers as to your choice of 4G. Then again, their next move might be to
LTE-Advanced
, rather than play catch-up with a standard LTE network.
source:
IntoMobile