What feature is used most on a cellphone? Hint: say cheese
23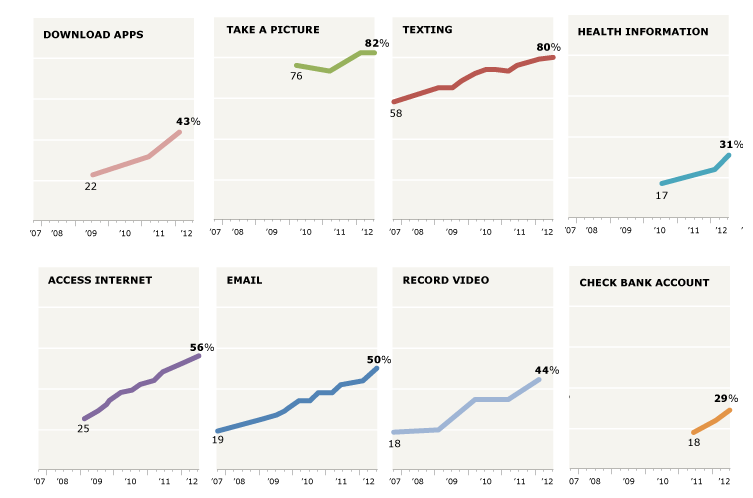 82% of cellphone owners use the camera, says Pew
Pew Internet recently surveyed 2,581 cellphone owning adults 18 years of age and older, and found that the one feature used by
82% of them
on their cellphone is the camera. That is up from the 76% using the shooter two years ago. Today, we have social photo sharing sites like Instagram and Flickr that help increase the use of a phone's camera. Right behind the camera, 80% of cellphone owners send texts with their phone. This is a sharp increase from 58% in 2007.
A surprisingly low 56% of cellphone users surf the web on their handset. This figure has more than doubled from the 25% that used their phone to browse the internet in 2008. There is a simple reason for that. While mobile Safari had been saddled with slow data speeds on the OG
Apple iPhone
, the 2008 launch of the
Apple iPhone 3G
increased the browsing speed from
EDGE to 3G
. In 2009, the browser on the
Motorola DROID
and Android 2.0 added another highly usable browser to the cellphone world and this led to more browsing. Today, most smartphones have decent browsers and those with featurephones can download a very good third party browser like Opera mini, which makes it hard to understand why the current figure isn't higher.
43% of cellphone users install apps on their phone. This is nearly double from the 22% who downloaded apps in 2009. While 31% use their phone to research health issues, the lowest score on the survey was the 29% who use their handset for online banking. Considering all the money that major money center banks like
Chase
and
BankAmerica
spend to create apps and build an online presence, this might be disappointing to corporations in the financial sector.
One important thing to understand is this survey was based on the responses of only a tad over 2,500 people. As such, it is a small sample size and might not be a true representation of the real world.
source:
PewInternet