Wendy's app now allows you to pay online
15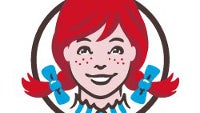 Wendy's is using its mobile app in an effort to attract young, smartphone obsessed youngsters. You've seen these kids. They are the ones walking into the restaurant with their heads down, staring at the screens in front of them, even while eating. To make dining at the fast food establishment a lot more convenient, Wendy's has a mobile payments feature on its app that is available at many (but not all) Wendy's locations. Just the other day, Burger King announced that it would be
extending the reach of its mobile payment app to 7000 stores
from just a handful.
But Wendy's left out the most important part of offering an app in the first place. There are no coupons, discounts or deals, something that the BK app is chock-full of. Where it does copy its rival's app is with the mobile payments and the nutritional value chart which tells you that a triple everything with cheese is an artery-clogging 1030 calories. Tapping the app will provide you with a numeric code that you repeat to the cashier when it comes time to pay for your meal. That is similar to how Burger King is handling mobile payments on its app.
The My Wendy's app is available from both iTunes and the Google Play Store, and will probably be a welcome addition to your app drawer once the hot weather arrives and a nice cold Frosty is just what you need to cool off.
source:
Wendy's
via
AP
,
Engadget