Well... the hole-in-display design is official. What do you think about it?
51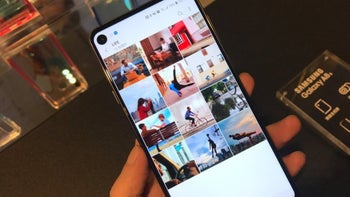 We've been hearing for a while now that Samsung is preparing a smartphone with a... hole in its display. It wasn't really a secret — the company itself proudly announced its name a month ago, calling it the
Infinity-O screen
. What's special about it? Well, instead of having a "notch" cutout at the top of the screen to hold a selfie camera and front-facing sensors, it only has a single, circular hole for the front lens.
Technological achievement? Sure! A bit weird to look at? Well... possibly.
The first Infinity-O smartphone has
officially been announced
and we have some actual real-life photos of it. After months of staring at leaks and renders, now we see how it will actually look. And why do we care? Because leaksters heavily insist that the
Samsung Galaxy S10
will get one of these fancy new holes as well! Of course, this means they will get much thinner bezels all around, too.
But if the price for uniform, thin bezels all around is having a display hole... is it worth paying? How do you find the first Infinity-O in terms of looks?
Recommended Stories