We pity the fool that wouldn't want BlackBerry's Mr. T
27

This article has been updated on September 28
.
There are many people out there who say they would love to buy a touchscreen BlackBerry if only it combined the Storm's screen with one of RIM's outstanding physical QWERTY keyboards. Someone must have blown out his birthday candles real hard because TheCoolGuyReport has provided some info on a touchscreen BlackBerry called "
Mr. T
" that will reportedly sport a landscape slider. While RIM handsets with a QWERTY have always had the keyboard in portrait mode (like the Bold, the Curve, the Tour and the upcoming 9700), "Mr. T" is the first BlackBerry with a landscape QWERTY, which would allow for wider buttons and (hopefully) for extremely easy typing.
If you are a non-believer about such a device coming to market, consider that the tipster behind this story is the gentleman who has been producing those great Storm 2 videos and he apparently has a legit connection with RIM. He adds that the screen is the same size as the Storm's and that like the sequel to the 9530, the ON/OFF and SEND/CANCEL buttons will be on the screen. It looks like with "Mr.T", RIM is calling out the A-Team as smartphone competition gets tougher and tougher. This model could have everything that the BlackBerry fan wants from a handset. The story comes from information that seems solid. The picture, on the other hand, has been made just to give you an idea of what a BlackBerry with such a design may look like.
source:
TheCoolGuyReport
via
BerryReporter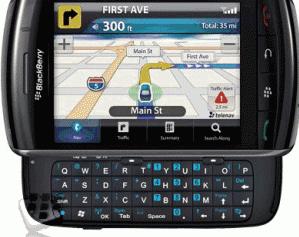 Mr. T - the image is for illustration purposes only!