We have some 90 smartphones in front of us, ask us anything about them!
99+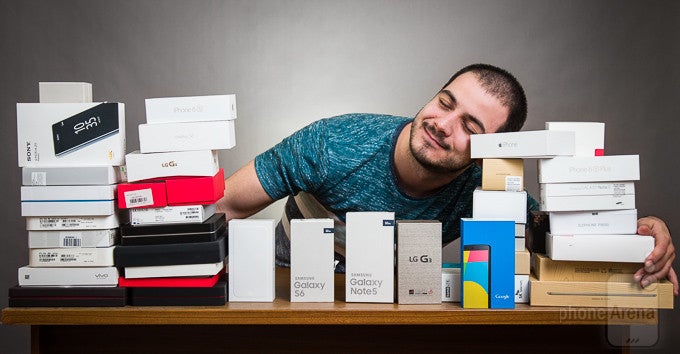 For nearly 15 years now, PhoneArena has been one of the web's most recognizable mobile tech venues. As far as web sites go, that's a pretty long stretch. In that times, the various members of the team—some past, others still present—have brought, and will continue to bring, more news pieces, reviews, and articles than we care to count. We honestly wouldn't even risk querying our database lest it halts and catches fire. In any case, and as you can imagine, during all these years, hundreds—perhaps even thousands—of phones have passed through our halls for a closer inspection.
Undeniably, one of the significant perks of working at PhoneArena is having early access to the hottest smartphones on the planet. The official company policy towards these is very liberal, meaning that colleagues are not only allowed, but encouraged to use them as their own. A neat job benefit? Sure, but also a prerequisite to informed opinions. And while we can't claim to have laid a finger on each and every smartphone ever made, we're probably as close as anyone. This helps paint the bigger picture, instead of looking at devices in a vacuum.
Most of the phones that have visited our offices are long gone. Gifted, broken, out of fashion and ditched, or just sold, they've passed onto the Nether. Regardless, we still have enough devices to supply a small shop, or alternatively—build an awesome fort. According to our latest count, our inventory numbers over 90 different devices available at our head office—some of them in number. Why care to make this public? Well, because we thought it'd be fun to hold a sort of Reddit-style AMАA (Ask Me
Almost
Anything) as a one-off experiment, and answer as many questions as you may have about any one of them.
Obviously, it goes without saying that requests to somehow damage the devices will be left ignored. Instead, try and think of questions that aren't a Google search away, and that won't require an unreasonable amount of man hours for us to address, and we'll be happy to get back to you!
Here's the list:
| | | | | | |
| --- | --- | --- | --- | --- | --- |
| Apple | Samsung | LG | HTC | Google | Sony |
| iPhone 6s | Galaxy S7 | G5 | One M9+ | Nexus 6P | Xperia Z5 |
| iPhone 6s Plus | Galaxy S7 edge | V10 | One M8 | Nexus 5X | Xperia Z5 Premium |
| iPhone 6 | Galaxy Note 5 | G4 | One M7 | Nexus 6P | Xperia Z3 |
| iPhone 6 Plus | Galaxy S6 edge+ | G3 | One Mini | Nexus 5 | Xperia Z1 |
| iPhone 5s | Galaxy S6 edge | G2 | Desire 510 | Nexus 4 | |
| iPhone 5 | Galaxy S5 | L70 | Desire 500 | | |
| iPhone 5c | Galaxy Note 4 | | | | |
| iPhone 4s | Galaxy Note Edge | | | | |
| iPhone 4s | Galaxy K Zoom | | | | |
| | Galaxy S3 Mini | | | | |
| | Galaxy S1 | | | | |
| Microsoft | Motorola | Huawei | OnePlus | BlackBerry | Nextbit |
| Lumia 950 | Moto G 2nd Gen | P8 | One | Classic | Robin |
| Lumia 920 | | Mate S | 2 | Passport | |
| Lumia 735 | | Mate 7 | X | | |
| Lumia 635 | | Honor 7 | | | |
| Lumia 630 | | Ascend P7 | | | |
| Lumia 520 | | Ascend G700 | | | |
| Asus | Alcatel | Acer | BLU | Xiaomi | Meizu |
| ZenFone 2 | OneTouch Hero 2 | Liquid Jade S | Pure XL | Redmi Note 3 Pro | PRO 5 |
| | OneTouch Idol Alpha | Liquid S1 | Vivo XL | Mi 4i | m2 Note |
| | OneTouch Pop C1 | Liquid S2 | | Redmi Note 2 | m2 |
| | | | | Mi 3 | MX5 |
| Oppo | vivo | ZTE | Elephone | Nubia | UMi |
| Find 7 | X5 Pro | Axon mini | Vowney | Z9 | Zero |
| R7 Plus | | | P9000 | | |
| R7 Plus | | | | | |
| R1x | | | | | |
| R5 | | | | | |
| N1 | | | | | |
| N3 | | | | | |