Waze beta adds reminder not to leave your child in the car
13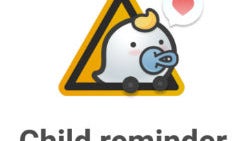 At a certain point, it can be somewhat difficult for an app to figure out what new features would be useful additions for users. Or, when you're working towards bigger goals, you may want to find some small changes to show users you're still working until that update gets pushed. It seems like Waze might be in that spot right now.
Waze is likely working on some more major changes for its popular navigation service, but the new feature in its latest beta is one of those smaller additions: a child reminder. Now, we're not saying that this isn't an important feature. No parent wants to accidentally leave their kid in a car, because there are serious and potentially fatal incidents that start that way. However, as far as technological updates go, this one is pretty basic. Waze has a new option where it will show you a custom reminder when you arrive at your destination, in order to help you remember to keep safe.
The new feature is optional (because obviously not everyone has children) and at the end of your first drive with the new update, you'll see an option to opt-in to the feature and set up your message. And, if you find it annoying or don't need it, you can always turn it off in the settings.
As of right now, this new feature is only available to beta testers and the general public won't be seeing it just yet.