Watch the full Samsung Galaxy Note event here: the infinite possibilities of the S Pen
22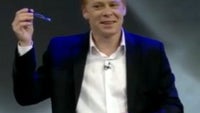 The
Samsung Galaxy Note
first shocked us with its 5.3-inch Super AMOLED display, but while that's certainly a compelling decision, it's not the sole focus of this handset. It's the mix of the
S Pen
, a built-in stylus, a mix of software tweaks that allow using it throughout the interface, that really makes the Note stand out. You'd also have to get rid of those tight fitting jeans to put it in your pocket, but you'd already had some problems trying to fit even a smaller handset in there, hadn't you?
Now, the Galaxy Note also features some interesting additions to its
interface
. Different gestures boost productivity greatly. The first one we'd mention is swiping your whole hand over the screen. This instantly saves a screenshot. Neat! Whatever you do on a phone, if reality comes in your way, you can just put your palm on the screen and it will pause everything you do.
Available in white and dark blue, and very thin for its size, just 0.38 inches (9.65mm) the handset has squeezed a lot of horsepower. To remind you the rest of the technical details, we'd mention that it's a 1.4Ghz dual-core processor that makes the phone tick, an 8-megapixel camera with 1080p video recording and HSPA or LTE depending on the market.
The Galaxy Note comes with a number of stylish
accessories
including a leather pouch, a flipcase and an ergonomic S Pen holder.
Now, with all of that in mind, check out the really amazing demo and full unveiling event hosted by Samsung. Trust us, you'd be amazed - the interesting part starts at about the 8 minute mark.