Watch the full Motorola DROID RAZR announcement, thinnest LTE phone yet
3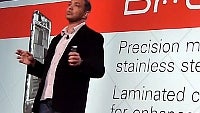 We went to New York City the other day for the
Motorola DROID RAZR
announcement and were more than pleasantly surprised by what the company has achieved with this handset. Motorola has not been famous for groundbreaking design of its high-end smartphones recently, but the DROID RAZR takes "thin" to a whole new level, a real tribute to the original beloved RAZR.
Motorola's CEO Sanjay Jha himself took the stage to present the company's
finest effort to craft a smartphone to date
, and they talked about many other things in the meantime. We captured the whole 43-minute presentation to bring you the excitement of the DROID RAZR announcement, and are embedding Sanjay Jha's show in the video below to feast your eyes on.
Now we can be more confident that Google made a smart move acquiring Motorola, and we will be curious to follow the sales numbers of that sexy LTE beast, the DROID RAZR.