Watch Utility appears on another iOS 8 leak while FaceTime goes down for iOS 6 users
6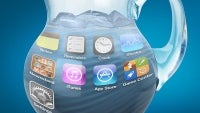 A user who presented himself as Omar Sharif (boy, we wish!) sent us a photo of an alleged iOS 8 build running on an iPhone 5S. There is nothing on the photo to expose it as an obvious fake, but alas, it is of poor quality - which doesn't prevent us from digging into some juicy details.
For starters, a bunch of new apps are clearly visible - TextEdit, Preview, Tips, Healthbook, a self-contained iTunes Radio app, and, again- Watch Utility. This app clearly isn't made for the
Samsung Gear 2
, is it? Jokes aside, its
second appearance
so far leads us to assume that it's going to be a part of iOS 8's reveal at the upcoming Apple WWDC. And if Apple is to be showing said app, it can't possibly do it without at least partially confirming the existence of its fabled iWatch, can it?
As both iOS 8 and an iOS 7 update to version 7.1.1 are confirmed to be in testing phases, we won't be surprised if this leak is legitimate. It's also consistent with other leaks that have been popping up lately. But, as always, keep your salt shaker nearby.
You saw the good news, so here's some bad news. iOS 6 users are reporting a FaceTime outage that renders them unable to make or receive FaceTime calls. In the meantime,
Apple's Systems Status page
shows that everyhing's in order. Allegedly, Cupertino is preparing a fix for the issue, and is also encouraging iOS 6 users to upgrade to iOS 7 if they aren't keen on waiting.
Update
: Omar passed along new screenshots of iOS 8 running on an iPhone and an iPad. They appear to be collected from various Twitter accounts.
Thanks for the tip, Omar!
Recommended Stories