Watch Tim Cook's full interview calming fears over Apple losing momentum: "Customers love our products"
44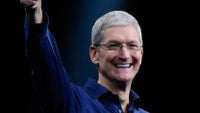 Shares of Apple have been rapidly going down in the week after the company unveiled results slightly short of analysts expectations, but in line with Apple's own guidance for weaker iPhone 6s sales. China in particular has taken a big hit in sales. All of this has investors worried, but the withdrawal from Apple stock might be a bit of an overreaction.
In fact, in the past 'weak' quarter, Apple still made some $10 billion in profits, more than its three biggest rivals, Facebook, Google, and Microsoft combined.
So what did Tim Cook say to calm the fears? A couple of things: first, without revealing any details, he mentioned that the next iPhone will have some truly innovative features with innovation that will work on a level so deep that people will feel like they need it in their lives, and secondly, he shared his optimistic thoughts on the Apple Watch that Cook thinks will grow on people over time with all the additional information that it provides.
If you want the full story, though, you have to watch the whole interview that is now available, and you can tune in right below.