Watch Apple iPad 2 with iOS 5 beta face off Samsung's Windows 8 slate
69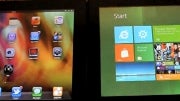 The tablet industry was pretty much created by Apple's iPad last year, but Windows-based slates have been a dream of Bill Gates even a decade ago.
Now that Microsoft is reinventing the most popular OS to enter the touchy-feely era, it
introduced Windows 8
, which is probably the biggest gamble it has taken in its history. While it's tempting to have a full-blown PC in tablet form, execution is everything for Windows 8 tablets to put a dent in the iPad dominance.
The early developer preview that Microsoft let out of the bag the other evening has its reference hardware, made by Samsung, which runs 1.6GHz Core i5 processor with two cores and has 4GB of RAM. The slate also sports a 11.6" Super PLS LCD screen and a full USB port.
Now it has been pitted against the Apple iPad 2 with iOS 5, to hint at the Windows 8 capabilities, even in this pre-beta form, and answer the burning question whose concept about computing will win the hearts and minds of consumers. Enjoy the video and tell us what you think in the comments.