Was Sanjay Jha serious about improved QWERTY for DROID 2?
16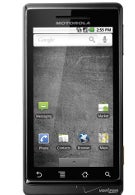 The BlackBerry Storm. the first touchscreen BlackBerry was so full of hype that Verizon and RIM tried to get away with launching a version of the phone that was far from being ready for prime time. Slow and sluggish on release, the Storm's lack of Wi-Fi also was seen as a major fail. Subsequent firmware upgrades made the Storm a much more competitive device in the smartphone space. At the same time, RIM was designing the Storm2 with improvements to the much maligned SurePress clicking keyboard and the browser. And RIM was able to shoe-horn a Wi-Fi radio into the unit. By listening to the criticism after the first Storm was launched, RIM and Verizon created the handset that the original Storm should have been in the first place.
The story of the Motorola DROID is a lot different in that the device was launched to rave reviews and was named Time Magazines 2009 Gadget of the Year and was considered an iPhone challenger almost instantly upon release. If there is a weak link in the unit, it is with the QWERTY keyboard which was designed with flat letters so as to keep the model slim and trim with the QWERTY closed. Even Motorola co-CEO Sanjay Jha, the man responsible for the amazing Android led comeback that has made Motorola relevant again, is talking about a better QWERTY for a DROID 2. Jha said at the CES that a DROID 2 will have an improved keyboard even if that requires new hardware to support it. No time frame for a second DROID model was discussed and Jha's comment seems almost an off hand remark with no weight behind it.
So will we see a sequel to the DROID? If history is any guide, it is a strong possibility as successful models like the BlackBerry Bold and the HTC Touch Pro were updated, improvements made, and re-launched as sequel models. There is no reason not to expect Jha's comments to prove prescient.
Motorola DROID Specifications
|
Review
source:
PCMag
via
Phandroid