Wallpaper evolution: Samsung outs infographic of the 'iconic' Galaxy S line backgrounds
12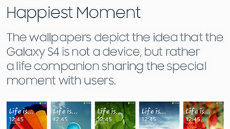 Waiting for the new Samsung Galaxy S model to be unveiled has become an annual event anticipated as much as the yearly updating of the Apple iPhone. And oh my, when it comes to the
Galaxy S6
, has Sammy's little S boy become all grown up, with stellar hardware, and classy exterior.
As if to celebrate the winning march of the Galaxy S6 and
S6 edge
, forecast to
sell up to 50 million units
this year, Samsung has concocted an interesting infographic, this time focusing on the "iconic" wallpapers of each Galaxy S line generation. It shows how we started with the OG phone sporting a "mere" 4-inch, Super AMOLED screen, and powered by a 1 GHz processor. The Samsung Galaxy S6 features a 5.1 inch Quad HD Super AMOLED display, powered by a homegrown Exynos 7 Octa chipset. Along the way, the rear-facing camera has gone from 5 MP to 16 MP with OIS tech, while the RAM amount went from 1 GB to 3 GB.
As the infographic reminds us, the wallpapers also changed to reflect the evolutionary journey for Samsung's flagship Android handset over those years - from the nightscape original one, meant to emphasize the novel AMOLED technology at the time, to the current fluid pattern that represents the future of technology. Take a look below, and tell us which one you liked the most.
Recommended Stories