WSJ confirms HTC One launch delay, UltraPixel camera components to blame
62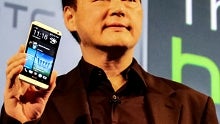 It seems that CEO Peter Chou has a lot riding on the
HTC One
success, as
camera component shortages
have been confirmed by the Wall Street Journal to sabotage the device's launch.
The culprit are apparently some very specific components for the UltraPixel camera that can't be replaced with off-the-shelf gear. After the sales slump last year, HTC cut component order forecasts with suppliers, and lost its privileged status as a customer, so now its orders are on the backburner.
Insiders say that Peter Chou pledged his executive position last year, if the HTC One sales don't pan out, and the launch delay isn't helping to offset that pledge. Given what the One offers compared to its competition, the sales are more than likely to be decent, once those component shortages are resolved, but still HTC's CEO has something to really worry about now.