WSJ: Samsung to produce smart speaker powered by AI assistant Bixby
16
According to a report in today's
Wall Street Journal
, Samsung is joining companies like Apple, Amazon, Google and Microsoft by producing a smart speaker. This is the latest tech hit that started with Amazon's launch of the Echo a couple of years ago. They are called smart speakers because the product combines a speaker with a virtual AI personal assistant. Amazon launched Echo with Alexa and this year she took off.
Alexa can now be found on some handsets
like the
Huawei Mate 9
and
HTC U11
.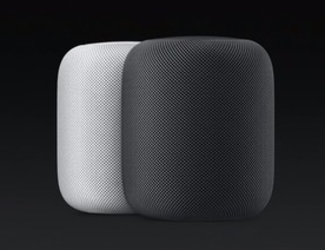 The Apple HomePod smart speaker coming in December
Last month, Apple unveiled the HomePod
, which has a premium speaker, Apple Music integration, and Siri. Microsoft teamed with Samsung's Harman Kardon and Cortana for the Invoke. And the Google Home combines Google Assistant with a speaker. The Journal report says that Samsung's smart speaker, code named "Vega," has been a year in the making. It will feature Sammy's own AI assistant Bixby. But with the English-language version of Bixby delayed, there is no timetable yet for the product's release.
36 million Americans will use a smart speaker at least once this month this year, double the amount from 2016. The speakers can give out information like weather, sports scores, stock prices, and if connected to a music app, they can play music on demand. The smart speakers can also be used to control smart appliances. On Amazon's new Echo Show,
there is a 7-inch touchscreen
which can monitor your front door step among other things.
Will Samsung be able to succeed in a market that is getting more crowded by the second? The answer will probably depend on whether the public falls for Bixby once the English-speaking version of it is ready to go.
source:
WSJ
Recommended Stories