WP7/WP8 rumoured to get an app similar to FaceTime, said to be better than Skype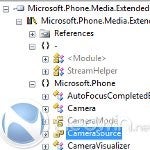 You have to prepare your pinch of salt, because here comes one very unconfirmed rumour about Windows Phone 7 getting a FaceTime-like app.
According to this rumour, Microsoft is cooking an app similar to FaceTime, presumably as a part of its Microsoft Live services, which, in turn, will make this feature available for differnt devices and platforms. This app is set to be able to do things that "will reach beyond the hand of Skype ", and, if this is true, it will no doubt give WP7 a boost.
The report goes on that it's yet unknown when this app/feature will see the light of the day, but it may very well arrive in time to be integrated with a late Windows Phone 7 update. Even if it doesn't make it to WP7, it is hinted that a front-facing camera may be one of the requirements for the handsets powered by WP8, so it's definitely coming at some point.
This rumour sounds logical, but there is nothing to prove it, except for that photo being tossed around, so for now it's exactly that - a rumour. If true, though, how much of an advantage it will be for Microsoft's latest mobile OS?
source:
Neowin