WM Professional media players test
3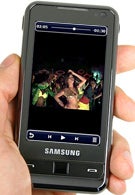 Introduction:
Aswe often mention in our reviews of Windows Mobile Professional phones,one of their main advantages smartphones is the ability to installvarious applications. In this article we will discuss those of them,which will let you transform your device in a personal multimediaplayer (PMP).
Keep in mind,that no program can compensate forpoor sound quality or overcome the low-end earpieces included in adevice's package, and that's why we'll only rate them for comfort ofcontrol and options offered.
The tests have been made with
Samsung OMNIA
,
HTC Wizard
and
i-mate 6150
in order to check if all players are fully operational under thedifferent resolutions ( respectively WQVGA, QVGA, VGA) and processorspeed. If it hasn't been explicitly mentioned in the text, then we'vehad no troubles.



Free ones:
Slide 2 Play (S2P)
One of the most impressive functions of iPhone's music player is Cover Flow, which allows you to view your music collection by simply swiping your finger over the large album. Thanks to Slide 2 Play this awesome interface is now available on every Windows Mobile Professional device. The last version of the application is offered in two variants – for QVGA and VGA displays, but you can still use it with a WQVGA (240x400) one, like in OMNIA.
The interface and the controls are identical to the iPhone's and are very convenient. Nevertheless, there are some bugs which still need to be addressed. For instance, if you have a few songs from different albums in the same folder, only the first one (in alphabetical order) will appear. It would be great if the album information was taken from the ID3 tags of the files and appeared as separate, despite being in the same place. Accelerometer support is not present either, but landscape view is still utilized and switching is done in a very clever way; simply run your finger across the screen in the direction you want and voila, you are in Cover Flow mode! It's also nice that you are able to control the player using the D-pad.
Basically, this is the best and player in terms of options and design, and an added bonus is its price…free!] There still are no extras such as an equalizer, but its creator (A_C at xdadevelepors) often releases updates and we expect functionality to be continually added.
Mort Player
Although not as effective and convenient as S2P, the Mort player offers many options and a few variants for different skins. Like the PC application Winamp, skins completely transform the player and influence everything from album art display to control scheme. There are various visualizations (showing the playlist or minimized to only a quarter of the screen), as well as different sound effects and the option for manual adjustment of the equalizer.
Unfortunately, Mort Player is kind of ugly, not very intuitive and you'll need time to get used to it. Also, bear in mind that it doesn't appear in full screen with WQVGA displays.
Paid:
FlipSide
This player has been entirely designed with the album art in mind. If all of your songs are tagged correctly you'll be able to enjoy their covers as well. If not, the only thing visible will be a large icon with a note. The good news is that the information and the order in which the artists and the albums appear is taken from the file, and doesn't depend on the folder they are in. The covers take almost the entire screen, and switching to another music compilation is done by running your finger across the screen. Unfortunately, this transition is very choppy in phones with slower processors or less memory. In addition, the play/stop visualization and the progress bar are rather ugly.
You can organize your songs in playlists, but an equalizer is not present which is somewhat annoying since you have to pay $19.95 for the application. However, the Flipside player has an Ace up its sleeve; it provides fast access to the artist information of the current track courtesy of last.fm. The same source notifies you of upcoming concerts and similar groups which is a nice extra but doesn't have a very useful application on a cell phone.
Vito Audio Player
VITO's advertisements announce that it is targeting users sick of rummaging through the various options and switching between different modes. Basically this is a greatly simplified player, almost to the point of being crippled. It will not let you easily jump to the next track (you'll have to FFW it manually) or play a random song in the playlist while listening to music.
You are probably wondering why should you pay $9.95 for this application. There are a few nice functions such as the bass booster and the "start where you left it" feature, but overall it's not worth the money.
Simple Tunes
The very name of the program hints that this is a very simple music player. It has been fully optimized to operate without a stylus and resembles the design and the controls of an iPod. It looks quite easy to use, but unfortunately the songs cannot be sorted and cannot be organized in playlists. You'll need to place all files in the same directory in order to make them easy to play. However, when there are multiple files this is not convenient at all. This is a serious problem which makes using the player pointless to a certain extent. On top of that, phones with WQVGA resolution will not display the player on the entire screen.
Is it worth the $20? Definitely not.
Electric Lobster Tunes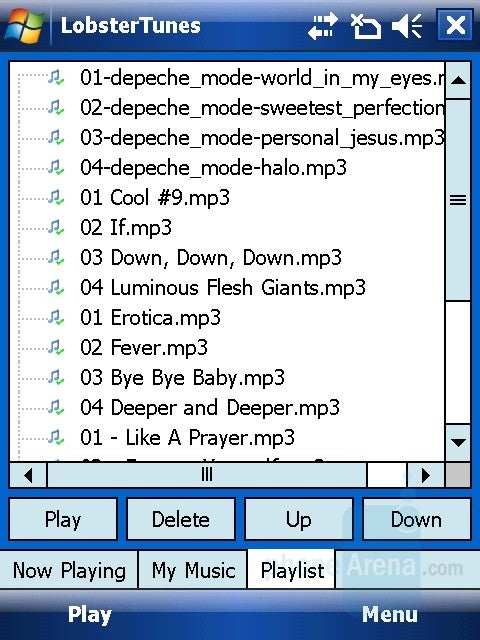 Lobsters are a strange and expensive (to consume) species, and so is the player named after them. It consists of two parts; one is installed on the phone and the other lets you create a multimedia server on your PC. Afterwards, if you have good connection, you'll be able to listen to music from your computer no matter where you are. The idea of the program is great, but its interface is not very friendly to use. In addition, setting up a media server is a hard task.
The application uses a lot of traffic and it should be combined with an appropriate data plan (with many MBs). Electric Lobster Tunes is priced at $19.95.
Pocket Player
If you have no fear of a player full of options and features, you'll like this one a lot. You have three different views of the songs when listening to them, the ability to sort tracks by artist, album, style, year and contributing artist. You can create your own playlists as well. The interface is very fine and is easy on the eyes. Moreover, in addition to the multiple presets the offered by the equalizer you can store your own custom EQ setting. The crossfading effect is also available, and the entire Pocket Player can be minimized while you are doing something else.
If all that is not enough, Pocket Player also adds a video player (similar to Windows Media) and podcast functionality. The ability to use classic Winamp skins (.wsz files) is very cool, but since they are not intended for a mobile phone resolution they do not visualize correctly and interfere with the controls. Nevertheless, we dare say that this is the best paid player, priced at $19.95.
Resco Pocket Radio
Have you ever wanted to kill some time by listening to some music, but not have any loaded on yourdevice? Well, if you have a decent internet connection and Resco Pocket Radio, you'll never be in a situation like this. Resco has a simple but user-friendly and beautiful interface, offering access to numerous radio stations divided in categories such as Electronica, Hip-hop, R&B, Soul, Pop, Rock and many others. You can even add your own stations. Right next to each of them you'll see the quality (the bitrate) of the tunes and their format (MP3, OGG).
Resco Pocket Radio can be yours for $19.95.