Vodafone: Our stake in Verizon Wireless is worth $130 billion
24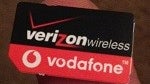 This may shock some of you, but the executives at Vodafone feel the valuation of Verizon's potential buyout of the former's 45% stake in Verizon Wireless is a tad low, roughly $30 billion low based on an assumed tax bill in excess of $10 billion.
No formal offer has yet been made, but the overtures made by Verizon CEO Lowell McAdam and CFO Francis Shammo over the past few months indicate the company could do the deal, and enable Vodafone to escape a hefty tax burden in the process.
By making these feelings known in the public arena, Verizon is sending a message to Vodafone shareholders in an effort to force the hand of Vodafone's Board of Directors and negotiate a deal.
Verizon last looked seriously at Vodafone's stake a couple years ago, but then too there were disagreements over the value of that portion of Verizon Wireless. Even with the dividends now paid to Vodafone for its share of Verizon Wireless, the bulk of Verizon's revenues and nearly all the profits come from the wireless unit. Verizon might be able to buy Vodafone's stake in stages, but on the face of it, a number of analysts are predicting that Vodafone will not let go of its stake for $100 billion, again over concerns that the tax burden is not as easy to avoid as Verizon suggests.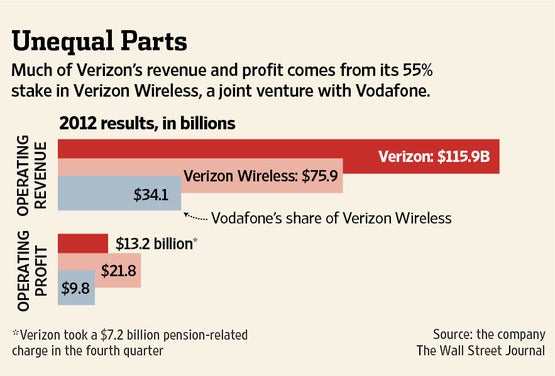 The challenge for Verizon is that Verizon Wireless is Vodafone's strongest performer. Despite still turning a profit, European operations are saturated and revenues in some areas are dropping by double-digits. The other challenge for Verizon is the fact that it is the only buyer for this asset, that adds leverage to Vodafone's position.
Finally, the longer this takes, the harder it is going to get for Verizon. Verizon Wireless is outperforming its competitors in every way which makes the company more valuable. That could fuel a desire on the part of Vodafone
to keep its share.
source:
The Wall Street Journal