Vladimir Putin presents the People's President with the pinnacle of Russian tech, YotaPhone 2
20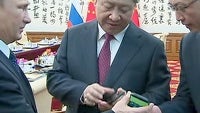 There's nothing like priding yourself on the qualities of a domestic product, designed and manufactured in your land, by your people. "Made In USA" still signifies a mark of quality and longevity to many Americans, and so does "Sdelano v Rossii" to Russians (and a healthy establishment of former Eastern bloc residents). Such is the feeling of national pride the head of everything Russian, Vladimir Putin, must have felt when presenting China president Xi Jinping with a YotaPhone 2.
The event, which elevates the dual-screen smartphone to the stature of pinnacle of Russian technology, happened on an EPIC summit in Beijing. For all we know, Putin could have opted for a Lada Granta - which is to Russia what the VW Golf is to Germans, in a way. But alas,
the car wasn't up to standard
. In addition to an E-Ink/1080p AMOLED dual-screen setup, the YotaPhone 2 boasts an enhanced data protection system put together by
Rostec Corporation (owner of Kalashnikov) engineers
. Serious business!
We have no information about mr. Jinping's reaction to the Russian phone of wonder, and whether he presented Putin with a Huawei or Xiaomi flagship. However, we did get some hands-on time with the YotaPhone 2 at this year's MWC, and we didn't leave disappointed.