Vivo might be making a 0.14in (3.8mm) thin smartphone, has the pictures to assert it
43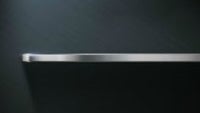 It was only last week that we wrote about Oppo possibly blowing everyone's minds with a smartphone that could be
as thin as 0.157in (4mm) at its thinnest point
. Honestly, one can expect everything from Oppo, but we refused to believe that particular grain of rumor mill produce until we've seen it with our eyes. Be careful what you wish for, they say, for Chinese manufacturer Vivo heard what its competitor was up to, and it showed off a smartphone of its own that's... hold on to your suspenders... a whopping 0.14in (3.8mm) thin!
Can you imagine that? Seriously, you can't, so check out the photos. The side contour of this unnamed device does not look like a phone at all - it looks like a surgical tool! It's equally ominous and awe-inspiring. It also makes the 0.29in (7.6mm) thick
iPhone 5s
look obese, and the current record holder for world's thinnest smartphone -
the 0.20in (5.1mm) thin Gionee Elife S5.1
- seem a little chubby.
A device of such outstanding thinness raises questions about durability and battery life. While we cannot assume anything for the latter, the former could be made possibly courtesy of lithium-aluminum - a material that's about as strong as stainless steel, with only a third of its mass. Reportedly, it's same stuff Oppo's using in its upcoming flagship smartphone, the Oppo N3.
Until Vivo sheds more light on the matter, let's quiet our enthusiasm a little and wait until the manufacturer sheds more light on what it has been up to.