Vivo Play is a beautiful 5.7" phablet with 1080p screen, Snapdragon 600 and 13MP Sony camera
14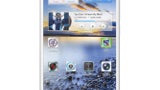 It looks like Chinese manufacturers are getting better at producing smartphones and phablets. Just take a look at this new entrant - the Vivo Play! It's a phablet with a 5.7" 1080p display, Snapdragon 600 processor and a 13MP Exmor RS camera sensor by Sony. Pretty good, huh? The real surprise here is the handset's design, which is not that hard to look at. As a matter of fact, it's actually quite the looker.
At this point, it seems like the only thing that's stopping Chinese manufacturers from successfully competing with the rest of the world (outside of China), is their nonexistent brand recognition. Have you heard of Vivo? We sure haven't, but if these guys keep coming up with such competitive hardware, who knows, maybe the global landscape in the mobile industry will be quite different in a few years from now. We only hope that the software on the Vivo Play is good enough, because we can see from the images that it's going to be a proprietary thing (just take a look at the Siriesque microphone icon for the 'vivoice' app).
An interesting thing about the Vivo Play is that it won't be sold at below-average prices, but will actually come with a somewhat heftier price tag of about $490. The device is scheduled to hit the market as soon as this month, but it'll only be available in China. But as is usually the case, if it's good enough, you'll probably be able to find it through a third-party retailer.
via:
GSMArena