ViewSonic ViewPad 7x Hands-on
1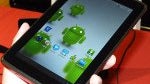 ViewSonic
isn't a stranger in the electronics world, but for a manufacturer known primarily for producing display panels of all types, they're still attempting to build their reputation in the tablet market. So far, their efforts have largely been overlooked due to the lack of competitiveness offered by their selection.
Absolutely no question about it, we weren't thrilled by
ViewSonic ViewPad 7
, which made it seem as though they were quick to jump on the whole tablet craze without realizing the kind of expectations people have nowadays. Fortunately for all of us, the
ViewSonic ViewPad 7x
is rising to the occasion in building their brand name across the market.
Sure it's sporting an entire
plastic casing
, which does attract a ton of fingerprints, but it feels pretty slick so that it doesn't come off as being on the cheap side. At the same time, it has this chic allure to it because of the triangular cutouts in the rear for its camera and flash – plus, there's this
holographic appearance
to its rear cover. Being a display panel manufacturer and all, we're thrilled by the its lovely looking 7" LED display that sports a resolution of 600 x 1024. In fact, it's detailed, vivid, high-contrast, and offers some stellar viewing angles that enables everything to look undeniably fantastic.
With the ViewSonic ViewPad 7, it relied on the outdated Android 2.2 Froyo experience, but of course, it's uplifting to find Honeycomb on board this time around. And thanks to its 1GHz dual-core NVIDIA Tegra 2 processor, it's able to operate at a manageable rate. Meanwhile, they've kept it simple by offering us the
stock Honeycomb experience
. There's no official word regarding pricing at the moment for the US market, but it's expected to become available sometime in October.