Videos show Froyo highlights on Motorola DROID
This article contains unofficial information.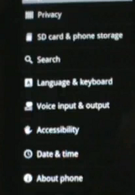 With Motorola DROID users sitting patiently, waiting for the official release of Android 2.2 for their handset, we have a couple of videos that give a tour to show you how the new OS will look on your handset. The walkthrough will show you some of the new settings that the new upgrade will give DROID owners along with a demonstration on how well Flash 10.1 works on the phone. The only downside to viewing the videos is that it whets your whistle for the firmware upgrade and you keep guessing when it will be finally released to DROID owners. It also shows you the new options that you have for storing your apps. You can either store them on the phone like you do now, or you can store them on a microSD card. Another option you have is to allow automatic updating for your apps. This eliminates the need to manually update your downloads which forces you to press a few buttons and wait for the app to re-install. Another new feature allows you to select an option that will allow you to use the power button to end a call. This could come in handy if the phone application freezes or for some other reason you cannot end a call the regular way. GMail also has some changes in store for DROID owners. Throw in the speed boost that is supposed to occur and this should bring a smile to the faces of the owners of the handset and perhaps make them forget about some of the other new Android devices that have just been launched.
Motorola DROID Specifications
|
Review
source:
droid-life