Video shows you how to make your own Apple iPad from scratch
6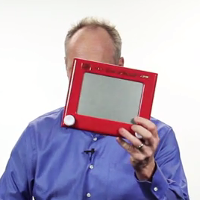 How would you like to make your very own Apple iPad from scratch? And the best part is, you probably already have all of the necessary equipment in your home. Have some wires left over from some old speakers that you don't even own anymore? Great. How about some old Christmas lights? Check. And for the screen, surely you can find an old Etch-A-Sketch that was once owned by your kids. You will also need some duct tape and jar of peanut butter.
Now, you will need to watch the video below to make sure that you have completed the assembly in the right order. And if it turns out that your iPad isn't working exactly like other ones that you've seen, perhaps you left out an ingredient or two. Maybe you need to watch the whole video over from the beginning.
Ah, we can't pull the wool over your eyes. This is just another great video from Conan O'Brien's Team Coco. And do we really have to tell you not to try this at home?
source:
TeamCoco
via
RedmondPie