Video shows that Google is prepping new colors for the Nexus 5
28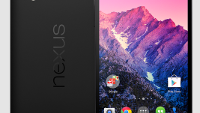 One of our loyal readers has just sent us an interesting video of what appears to be a revamped Google Play Store page for the
Nexus 5
. Can you figure out what's different? The page now shows 8 color options for the stock Android handset. The colors that appear are Black, White, Red, Orange, Yellow, Green, Blue and Purple.
The tipster didn't leave us much information, except for the video, which appears to show someone clicking on all of the possible color choices. Note how the image of the phone changes with each color option, showing the Nexus 5 wearing each different color. Unfortunately, we have no idea when the new colors are going to be available. Currently, Nexus 5 buyers can choose between a black or white version of the phone.
As usual, keep a skeptical mind about this until we actually see the new colors made official.
UPDATE:
We now have a slideshow containing individual pictures of the new colors for the Nexus 5, along with the current Black color
.