Video of gestures tutorial for BlackBerry OS 10 leaked
29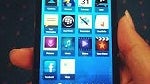 We have known that gestures will be a major navigation feature with BlackBerry 10. Like the BlackBerry PlayBook, the gestures are pretty intuitive, and reminiscent of webOS.
The gang at BlackBerryItalia.it managed to show many of the tutorials currently involved with BlackBerry 10 in the full touch-screen environment. The videos are short but informative. As you view them, it is evident that RIM wants this device to easily accessible to perform just about any task.
Based on the gestures outlined in the video, it looks like the company is on the right track. There are four videos, two of which the captions are in English, the other two in Italian. They are videos of a video, so you will understand that they are not very high quality, but they are quite legible. With these gestures, it looks like making your way around the device will be a snap.
sources:
BlackBerryItalia.it
via
BBin.in