Video hints at Marshmallow as the name of the next Android build?
46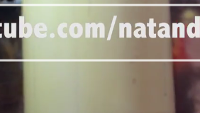 On Friday, we showed you
a video made by two Googlers that contained a catchy tune "What's M Gonna Be?"
If we had a streaming music service for our readers, it probably would go straight to number one. So what will Android M be? According to one of our loyal readers, a huge hint might have appeared in the video produced by those two too cool for school Google employees Nan and Lo.
After the video goes to black, there are a few extra seconds where we see the Android mascot's body and legs getting spray painted white. That would seem to indicate that the next Android build will be Marshmallow. Of course, we also have to consider that this could be a huge fake out designed to have everyone guessing the wrong dessert.
The only thing that we know about the announcement next week is that the next Android build will be 5.2. And as soon as Android M is announced, the speculation will immediately be all about Android N. Necco Candy Wafers anyone?
While we already have shown you the video yesterday, we are repeating it here so that you can check out the spray painting bit that appears after the song is over.
Thanks for the tip, Aamer
source:
NatandLo