Verizon's lesser known HTC SMT5800 quietly gets updated to Windows Mobile 6.1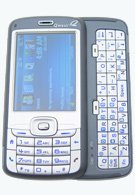 We'd be really impressed if owners have managed to hold onto their Verizon HTC SMT5800 smartphones all this time – just considering all the recent really big HTC Windows Mobile handsets available. If you haven't parted ways yet with the smartphone, you'll be glad to know that there is an update available for it. Given the fact that the latest news surrounding Microsoft's platform is looking to be Windows Mobile 6.
5.3
, the SMT5800 quietly got upgraded to Windows Mobile 6.1 – plus it added one other unexpected feature which makes it a long time coming. The update was actually made available a month ago, but neither PCD or HTC alerted anyone to the release – better late than never, right? What you'll expect to find other than the upgrade to WM 6.1 is that it even handles VZ Navigator – but it's unknown yet if GPS can be used with other applications; something that Verizon has been known to do before. So if you really want to experience the already aging Windows Mobile 6.1 platform on your handset, then do yourself a favor and check this update out.
HTC 5800 Fusion Specifications
|
Review
via
Phone News