Verizon's internal site show the Palm Pre Plus, Pixi Plus, and Casio Brigade
5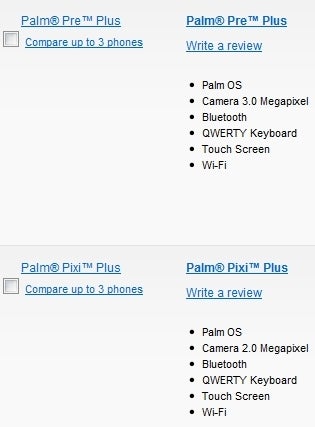 While looking around on Verizon's internal testing site, one of our tipsters found something interesting: a listing for the Palm Pre Plus, Palm Pixi Plus, and Casio G'zOne Brigade PTT. Verizon
already announced
at CES that both Palm models would be released on Jan 25th, but the price was kept secret. Then we got
a tip a few days ago
saying that the Pre Plus for Verizon would be $149.99 while the Pixi Plus would be $99.99, both with a 2-year contract and after a $100 rebate. Needless to say, the 2-year price on Verizon's Testman site spotted tonight have the prices of both at $299.99 after $100 rebate, but what's interesting is that it has the same price listed for 1-year and for no contract. So because of this, we can assume the $299.99 on a 2-year isn't correct, as is often the case on Testman, but at least the phones are being uploaded into the system and getting ready for next Monday.
More looking around showed the Casio G'zOne Brigade, which has been missing-in-action, since everyone thought it was going to come out
last December
. Features listed are a QWERTY keyboard, 3.2MP autofocus camera with flash, MIL Specs 810F, 2.9" 400x240
pixel
internal display, 1.9" PMOLED external display, EVDO Rev A, and supports microSDHC cards up to 16GB. Pricing for the Brigade (which may not be correct) is shown as $149 with 2-year, $249 with 1-year, and $299 full retail. There is no release date yet for the Casio G'zOne Brigade, but it is expected soon.
Thanks to a friend for the info!
Palm Pre Review
(Sprint) |
Specifications
Palm Pixi Review
(Sprint |
Specifications
Casio G'zOne Brigade Hands-On
|
Specifications