Verizon's iPhone users report fewer dropped calls than AT&T customers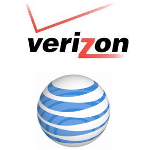 A survey conducted by ChangeWave of 4,068 iPhone users showed that over a 90 day period, 4.8% of AT&T iPhone users reported a dropped call while only 1.8% of those on Verizon's network suffered the same fate. The Apple iPhone is certainly not to blame here because a similar survey conducted using different handsets resulted in a 4.6% dropped call rate for AT&T and a 1.4% rate for Big Red.
82% of Verizon's iPhone 4 users are very satisfied with the device with 16% somewhat satisfied. Over at AT&T, the figures are 80% and 18% respectively.
ChangeWave also asked prospective Apple iPhone users which network they would sign up with. 46% chose Verizon, 27% picked AT&T and 27% were unsure or picked neither one.
While the statistics appear to show a clear-cut advantage for Verizon's network, ChangeWave says it is still early in the game. They wrote, "Verizon is still in the very early stages of its iPhone 4 offering to consumers. It remains to be seen how well the Verizon network performs as the number of Verizon iPhone 4 owners ramps up and inevitably puts more pressure on their system."
But until that happens, AT&T's iPhone customers have a higher chance of having a call drop in the middle of a conversation than Verizon customers do.
source:
ChangeWave
via
AppleInsider