Verizon worker locked in an underground vault, Verizon Wireless coverage saves the day
19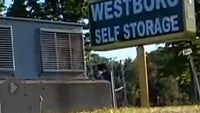 The owner of a storage facility in Westborough, Massachusetts is facing a number of charges,
including kidnapping
for trapping a Verizon technician while he was working in a ground vault. Howard Cook is the owner of Westboro Self Storage and he was apparently angry that Mike Hathaway, the Verizon technician, parked his Verizon van on the grass next to the vault. So, Cook did what any reasonable person would do. He
removed the ladder from the access door, closed the hatch and then placed heavy rocks on the hatch door
so that it would be all the heavier to lift open for good measure.
That put Hathaway in a bit of a pickle as it prevented free flow of air in an out of the vault. Carbon dioxide is heavier than oxygen so there was a real danger to the tech who found himself locked in with no way out. The fact that
he also has high-blood pressure
did not help either.
Taking
"can you hear me now"
to the extreme, Hathaway, despite being underground within a concrete vault, was able to get a signal on his mobile phone and call 911. Police arrived, rescued the Verizon tech and arrested Cook.
That alone is a pretty strong testimonial about coverage, though we suspect it will not be used an any advertisements in the future.
source:
CBS News Boston