Verizon wins new awards by JD Power
25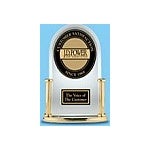 Two new reports are out today by JD Power and Associates, both of which are good news for Verizon Wireless and its customers. First off,
Verizon was ranked 1st place in JD Power's Wireless Customer Care survey
, with an index score of 753 (on a 1,000-point scale), 14 points higher than the industry average of 739. Much of this can be attributed to Verizon's ability to identify customer problems quickly and resolve them efficiently during phone calls and in-person visits to retail locations. Following closely with an index score of 752 is T-Mobile, which has demonstrated proficiency in efficiently channeling calls through its ARS system to a live customer service representative. Wireless carriers AT&T (733) and Sprint Nextel (721) rank third and fourth, respectively.
Next is the ratings for
Wireless Call Quality
, which measures the call quality among the major U.S. wireless service providers in six regions and is based on factors that impact overall carrier performance. For this, JD Power surveyed 24,300 wireless phone subscribers between July and December 2009 to find out their experience with dropped calls, static/interference, failed connection on the first try, voice distortion, echoes, no immediate voice mail notification, and no immediate text message notification.
Verizon Wireless was ranked 1st place
in the
Northeast Region
,
Mid-Atlantic Region
,
Southeast Region
,
Southwest Region
, and
Western Region
. The only area where Verizon came in 2nd place (and tied with Sprint and T-Mobile) was the
North-Central Region
, which gave 1st place to U.S. Cellular.
source:
Verizon Wireless
and
JD Power